Aspen Times Weekly, vol. 123 - Issue No. 9
March 2,3, 2002.
By Mary Eshbaugh Hayes
---
Gretl Uhl: an Aspen legend dies at home as the snow falls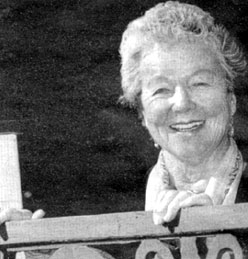 For someone who loved winter and skiing so much, it was fitting that Gretl Uhl passed away during one of the winter's biggest snowstorms on Wednesday evening, February 20. She was 78 years old.

Following a two-year battle with cancer, she died peacefully in her home with her son, Tony, and daughter, Renate, longtime friends, Julie Grant and Edie Chisholm, and Dr. Jim Patrick by her side.

Gretl is equally famous for her skiing and her skill as a chef. On January 26 of this year, the Aspen community recognized her contributions when she was inducted to the Aspen Hall of Fame.

She was born and raised in Garmisch-Partenkirchen in Bavaria, Germany, where her parents had a restaurant at the Olympic ski stadium. She helped in the restaurant, but always said she picked up her cooking skills by osmosis ... because all she could think of was skiing.

Every day after school she would walk up the mountain, the Eckbauer (an hour-and-a-half hike) and then ski down.

She started racing in 1941 and was on the German National Team until 1951. She was supposed to compete in the 1948 Olympics, but they were canceled because it was still too close to World War II.

In 1948, she and Sepp Uhl were married — he was also a ski racer and a ski instructor. In 1953, the couple came to Aspen and Sepp became a ski instructor with the Aspen Skiing Corporation. As they had two children by then, Renate and Tony, Gretl baked tortes for local restaurants for a few years. In 1955, she began ski instructing with the Aspen Skiing Corp. She taught for a decade and became one of the top instructors on the mountain.

But by 1966, she had an idea. Having grown up in the European tradition, she wanted to bring it to Aspen. She convinced D.R.C. Brown, then president of the Ski Corp., to let her manage a new restaurant being built in Tourtelotte Park.

When Gretl ran the mountain restaurant from 1966 through 1980, it was special. She did not serve the usual ski mountain fare of hamburgers and hot dogs, pie and cake and milkshakes. Instead, it was more like a gourmet restaurant.

In an interview in The Aspen Times in 1980, she described her fare. "I split the menu half Bavarian and half Amerirican, always a homemade soup like liver dumpling, broccoli, zucchini, or cauliflower. Then cabbage rolls, stuffed peppers, beef roulade, stuffed zucchini. And for dessert .... of course, apple strudel."

She became famous for the strudel, and was written up in national publications such as Ski Magazine, Women's Wear Daily, and Town and Country. Over the years, Gretl gained worldwide fame and Gretl's Restaurant became the place to be on the mountain. Locals and celebrities alike met there for lunch.

At first she staffed the restaurant with Aspen housewives. "I'll never forget the first day we opened," Gretl told The Aspen Times in the 1980 interview, "The customers came in, looked around, and said ... It looks like the PTA. I had hired all my friends." Later she hired ski bums and hippies and in an Aspen Times interview this October with Brent Gardner-Smith, she related how she pioneered the two-days-on, two-days-off schedule, a schedule still followed by most local mountain restaurants.

Gardner-Smith wrote, "Gretl was famous for working with, not above her employees. She worked seven days a week all winter long, taking the first chair up at 7:45 a.m. and skiing down through Spar Gulch at 4:30 p.m." She usually made that final run by herself and always rejoiced in her skiing.

At the end of the 1979-1980 ski season, Gretl resigned because the Skico offered her a lease she could not accept. For the next decade she worked as a consultant with George Schermerhorn and Robert Cronenberg, helping them run the Merry-Go-Round restaurant midway at Aspen Highlands.

Throughout the years, Gretl loved to go to dances and in addition to return trips to Germany, she delighted in visits to Hawaii. The past several years, Gretl had volunteered as a Ski Ambassador for the Aspen Skiing Company on Aspen Mountain and two winters ago she was named Winterskol Queen. She told friends, "Being inducted into the Aspen Hall of Fame on January 26 of this year was the highlight of my life." Although the cancer had already taken its toll, Gretl hung on for the awards ceremony and was her usual vivacious self, charming the gathering with her stories and memories.

Just last Saturday, as she was failing, she looked at her legs and said, "What a wonderful life these legs have given me with all the skiing and the dancing."

Her husband, Sepp, died in 1993. Survivors include son, Tony Uhl, daughter, Renate Uhl, daughter-in-law, Leslie Uhl, grandaughter, Sophia Sage Uhl, grandson, Griffin Arion, all of Emma, and sister, Dolle Huber of Garmisch-Partenkirchen.

A memorial service will be held on Saturday, March 9, at 1 p.m. at the Aspen Chapel of the Prince of Peace. For people wishing to make memorial contributions, a fund will be handled by their son, Tony Uhl, at Box 122, Aspen. Plans are for a bench in memory of Gretl and Sepp and funds for the local Hospice.